The Chalet Girl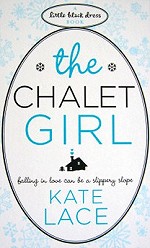 The ski season – a glamorous world of snowy pistes, gorgeous ski instructors and glittering apres-ski nightlife. What's not to love?
Quite a lot, thinks Millie Braythorpe. Four months of endless bed-making and cooking for guests have taken their toll, and the only thing she really looks forward to is her nightly gig singing in a little French bar. Then handsome troublemaker Luke comes to stay at her chalet, and before she knows it Millie is head over heels in love.
But is Luke to be trusted, or is her Alpine romance destined to end in heartbreak?
What are people saying about The Chalet Girl?
The Chalet Girl is in fact a modern fairy tale. To be precise, it's Cinderella. Millie Braythorpe (the eponymous chalet girl) and her mother Hannah both get a shot at being Cinders, Luke Hastings is Prince Charming, there's a veritable gaggle of Fairy Godmothers and an interesting piece of cross-gender casting in the role of The Wicked Sister. There's even a ball, a pair of glass slippers (oh – all right, they're actually strappy sandals') and a fairytale ending.The ending, I have to say, is never in any serious doubt. From the moment when we – through Millie's eyes – see Luke's orange-waterproof clad back, it's a dead cert. As is nearly always the case with the best romantic novels, the plot is almost secondary. It's how much fun the journey is that keeps you reading and this journey is a real winner. In fact, I'd even go so far as to use another well-worn cliche and say that it's a page-turner – because it truly is.'…The language is robustly unflowery in places and the characters talk the way people really DO talk in the real world. The chapter where we learn why and how Millie became a chalet girl is written with a poignancy that frankly startled me.- Extract from a full review by Vulpes Libris
"This book was well written, easy to read, had great characters and a well thought out and interesting story.
I also liked the fact that the main character is the same age as me, as I find it is easier to relate to.
I'd definitely recommend this book for anyone wanting to read a modern romantic novel. Without wanting to sound sexist, I think this book will appeal more to women than to men (hardly surprising though since The Little Black Dress collection is written with the modern woman in mind)."